Opening Times
Monday - Friday
&nbsp09:00 - 17:00

History
1922
1930
1959
1972
1983
1984
1991
2011
1922
William Harris ran a large car before he bought his first Charabanc in 1922, a Fiat, from his 1st World War gratuities. He witnessed the pulling power of these vehicles during his time in Italy.
His decision was to enter the passenger transport industry due to lack of transport in war-torn Britain.
1930
William Harris ran services to the Austin Motor Company, and took over our present premises in 1930, on a £3 per week rental and a promise to purchase in 2 years, which was assisted by his wife Frances Lilian.
1959
After the death of William, in 1959, the company was ran by Frances Lilian and her son Graham, who had served his National Service with the R.A.F and gained a good knowledge on general maintenance of vehicles.
Continental travel started in the late fifties and Graham drove himself on many memorable tours.
1972
Graham insisted on comfort and safety and in 1972, changed the whole fleet of ten. Two of the vehicles had extra special seating fitted as he wasn't happy with the normal "run of the mill" seating and extra breaking systems were fitted for safety.
In the mid seventies, he was joined by sons Jon and Steve to assist in the driving and maintenance of the coaches. (They also helped after school, cleaning, washing and generally "hands on!!")
1983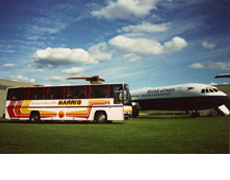 In 1983 we bought two new coaches from Belgium which Graham insisted have very special seats. However, he was ill-advised on the amount of seats that would fit into them with comfort! By the time of delivery, bookings had been taken to the full capacity and they were operated with minimal leg room, BUT NOT FOR LONG!! Two rows of seats were removed creating the better leg room desired.
1984
1984 saw the introduction of our first Neoplan Cityliner coach with many comforts and safety systems, not standard on any other vehicle. Since then, we have continued to operate Neoplan coaches and have gained an excellent product knowledge over many years.
1991
Though we were very biased towards Mercedes/Neoplan we have always kept an open mind and follow the best of other manufacturers products. Hence we purchased two Bova's. Their stay at Harris Coaches was very short lived as we felt they did not offer the high standard of Neoplan/Mercedes.
Graham passed away in 1991, so the running the company was down to Jon and Steve and loyal staff and drivers.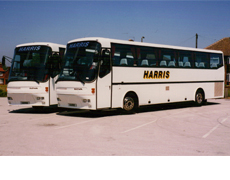 2011
Comfort and safety is still forefront, the present fleet has reduced seating to ensure plenty of leg room and all of the maintenance is done in-house to ensure your safety. Over the years we have witnessed the demise of many operators, but here at Harris Coaches, we have pulled though difficult times, and therefore we must be doing something right!!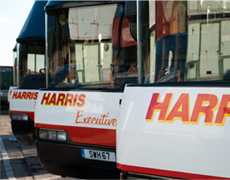 | | |
| --- | --- |
| Harrogate - NEW YEAR | 4 day(s) |
| 30 / Dec / 2023 | £ 479 |
| | |
| --- | --- |
| Torquay Festive Break | 5 day(s) |
| 11 / Dec / 2023 | £ 410 |
| | |
| --- | --- |
| Windsor Castle, Leeds Castle & Festive Lunch | 3 day(s) |
| 07 / Dec / 2023 | £ 332 |